OUR HISTORY: THE LEADERSHIP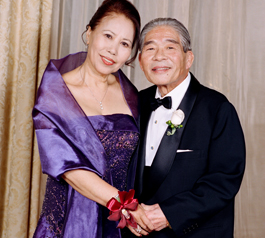 "IN LOVING MEMORY OF MR. & MRS. FUJITA….."
Determination. Commitment. Gratitude.
 These words describe the foundation in which the Mt. Fuji Japanese Steakhouse restaurants were built upon. Born in Tokushima, Japan, Tokuaki "Tony" Fujita started his humble beginnings in Japan excelling in the sport of Greco-Roman wrestling. His talent and determination propelled his wrestling career to a level where he trained with the prestigious Nippon Physical Education College and competed in the 1964 Tokyo Olympics.
Thereafter, Tony headed for the U.S., where he would meet his beloved future wife, Kazue "Kay" and find his passion of becoming a restauranteur. Through many years of hardship and dedication, the couple worked their way up from a dishwasher and waitress to eventually owning their first luncheonette called "Mr. Fujiyama's." It was 1968, in Ridgefield, New Jersey, which marked their beginning to success.
Even so, Tony had bigger plans and envisioned something greater for his creations. He and Kay wanted to bring and share their special Japanese cuisine, tradition and culture to America. Their commitment and sacrifice were unwavering, which ultimately lead to their expansion of their luncheonette to a multi-chain of Japanese Steakhouses called, Mt. Fuji. Eventually there would be a total of nine restaurants throughout the Tristate area.
Today, the Fujitas and their entrusted Mt. Fuji family–many of whom have been with the company for decades– run and operate the Mt. Fuji restaurants in Hillburn, NY, and Hasbrouck Heights, NJ. Together, they continue to share the cultural traditions of Japan, while gratefully serving their loyal customers, from near and far.