APPETIZERS
GYOZA  7
Steamed and Pan-Fried Chicken Dumpling, served with Soy- Sesame Vinegar Sauce
SHUMAI  7
Steamed Jumbo Shrimp Dumplings, served with Soy Sauce
TEMPURA MEDLEY  8
Batter-Dipped Shrimp and Vegetables, Deep-Fried
KARA-AGE  7
Chicken Marinated in Ginger, Soy, Garlic, Sesame Oil, Deep-Fried to Perfection
KUSHIYAKI 8
Beef Skewer, seasoned with Teriyaki Sauce and Sesame Seeds
KANI  12
Tempura Batter-Fried Soft Shell Crab, presented with Ponzu Citrus & Cilantro Lime Sauce
HARUMAKI  8
Vegetable Spring Roll, Served with Soy Mustard Sauce
EDAMAME  5
Soy Beans Lightly Seasoned with Sea Salt
SOUPS
MISO SOUP 3
White Soybean Soup with Seaweed, Tofu and Scallion
MT FUJI ONION SOUP 3
Homemade Savory Onion Broth with Fried Onions and Mushrooms
SALADS
KAISO SEAWEED SALAD  7
A Variety of Japanese Seaweed with Sesame
AVOCADO SALAD  9
Freshly Sliced Avocado with Mixed Greens and Special Creamy Dressing
SPICY KANI SALAD  6
Kanikama, Spicy Japanese Mayo, Tempura Crunch and Tobiko
Please notify Server regarding any allergies or dietary restrictions
HIBACHI
HIBACHI SPECIALTIES
All Dinner Entrees Includes: Hibachi Shrimp Appetizer, Japanese Onion Soup, Fresh Garden Salad, Fried Rice, Asian Noodles and Vegetable Medley
BANZAI CHICKEN 25
Wonderfully Prepared and Presented with Sesame Teriyaki Sauce
with SHRIMP 36
with SCALLOPS 38
with LOBSTER 55
with PRIME SIRLOIN 42
with FILET MIGNON 36
SUKIYAKI PRIME STEAK 45
Thinly Sliced Prime Sirloin Prepared Hibachi Style with Chef's Special Sauce
SAMURAI PRIME STEAK 48
USDA Prime New York Strip Steak, Well Marbled and Flavorful
with SHRIMP 45
with SCALLOPS 48
with LOBSTER 65
MT. FUJI FILET MIGNON 42
A Première Cut of the Most Tender of Steaks
with SHRIMP 42
with SCALLOPS 44
with LOBSTER 59
SHOGUN DUET 58
Try our "Best of the Best" Combination of Two distinctly Superior but Different Cuts of Steak USDA Prime Sirloin and Filet Mignon Prepared to your Liking by our Master Hibachi Chefs!
HIBACHI SEAFOOD SPECIALS
BAMBOO SHRIMP 37
Jumbo Shrimp Sautéed and Presented with a Touch of Theatre
with SCALLOPS 42
with LOBSTER 54
ZEN SCALLOPS 44
Savory Sea Scallops Prepared with Lemon Butter and Soy Sauce
IMPERIAL LOBSTER 70
Succulent Lobster Tails Prepared Hibachi Style
with SCALLOPS 57
SAKURA SALMON 32
A Splendid Dish of Palate Pleasing Fresh Salmon Fillet
with SHRIMP 36
HIBACHI VEGETABLES
HIBACHI TOFU AND ASIAN VEGETABLES 28
A Colorful Combination of Tofu and Fresh Seasonal Vegetables Served with Edamame Appetizer, Miso Soup, Fresh Garden Salad, Fried Rice and Asian Noodles
CHILDREN'S MENU – For children under 10 years old
CHILDREN'S MENU – 20
Choice of CHICKEN, STEAK or SHRIMP
Includes: Mt. Fuji Onion Soup, Fried Rice, Asian Noodles, Vegetable Medley and Ice Cream

Plate sharing and per person charge • $20.00 per person (excluding beverages)
A 20% gratuity will be included for all large parties of 10 or more.
Sorry, we do not accept personal checks.
SUSHI & SASHIMI
SUSHI APPETIZERS
SUSHI 12
Assorted Raw Fish Bedded on a Blend of White Rice and Vinegar
SASHIMI 17
Slices of Assorted Raw Fish
TUNA TATAKI 16
Slices of Seared Tuna Sashimi, Served with Ponzu Citrus, Soy Dressing
OKONOMI
SUSHI OR SASHIMI
Made to Order – Single Piece
MAGURO (Tuna) 4
SAKE (Salmon) 4
HAMACHI (Yellowtail) 4
HIRAME (Fluke) 4
SUZUKI (Striped Bass) 3
UNAGI (Eel) 5
BOTAN EBI (Sweet Shrimp) 6
EBI (Shrimp) 3
IKA (Squid) 3
TAKO (Octopus) 3
HOTATE (Sea Scallop) 5
IKURA (Salmon Roe) 5
TOBIKO (Flying Fish Roe) 3
UNI (Sea Urchin) MP
KANIKAMA (Crabstick) 2
TAMAGO (Egg Omelette) 2
CLASSIC MAKIMONO
Maki Roll or Hand Roll
TEKKA (Tuna) 6
SAKE (Salmon) 6
HAMACHI (Yellowtail) 7
NEGI HAMACHI (Yellowtail & Scallion) 7
UNAGI (Eel) 7
UME SHISO (Ooba, Pickled Plum, and Cucumber) 5
CALIFORNIA (Kanikama, Avocado, Cucumber & Sesame) 5
SPICY CALIFORNIA 7
AVOCADO 5
ASPARAGUS, AVOCADO AND CUCUMBER 6
EEL & AVOCADO 8
TEMPURA SWEET POTATO AND AVOCADO 7
PHILLY 8
Smoked Salmon, Cream Cheese and Avocado
ALASKAN 8
Salmon and Avocado, topped with Tobiko
SPICY TUNA 7
Tuna with Spicy Sauce, Sesame Oil and Scallion
SPICY SALMON 7 or SPICY CRAB 6
Choice of Salmon or Crabstick with Spicy Sauce, Sesame Oil and Tobiko
SPICY CRUNCH TUNA 9
Tuna with Spicy Sauce, Tempura Crunch, Sesami Oil and Scallion
SPICY CRUNCH SALMON or CRAB 9
Choice of Salmon or Crabstick with Spicy Sauce, Sesame Oil and Tobiko
SHRIMP TEMPURA 8
Tempura-fried Shrimp, Cucumber, Avocado & Tobiko
SPIDER 13
Fried Soft Shell Crab, Cucumber, Avocado, Tobiko and Eel Sauce
DRAGON 13
Baked Eel, topped with Avocado, Tobiko and Eel Sauce
RAINBOW 12
Kanikama, Cucumber and Avocado, topped with Tuna, Whitefish and Salmon
MT FUJI SPECIAL SUSHI ROLLS
WASABI 14
Spicy Tuna with Avocado and Tempura Crunch, topped with Wasabi Tobiko and Orange Tobiko
GREEN DRAGON 15
Spicy Tuna and Tempura Crunch, topped with Avocado and Tobiko (No RICE), Served with Daikon Radish, Seaweed and Japanese Wasabi & Yuzu Citrus Soy Dressing
TOKYO TOWER 15
Shrimp Tempura, Eel, Avocado, topped with Spicy Kanikama Crunch
SPICY GIRL 14
Shrimp Tempura, Spicy Tuna, Avocado with Pink Soybean Wrap, Eel and Spicy Mayo
POPCORN LOBSTER 14
Tempura Fried Popcorn Lobster on top of California Roll with Spicy Mayo, Eel Sauce and Scallion
SPICY SALMON CALIFORNIA 13
California Roll with Yellow Soybean Wrap, topped with Spicy Salmon
EAST MEETS WEST 15
Spicy Salmon, Avocado, Tempura Crunch, topped with Spicy Tuna, and Tempura Crunch
SPECIAL BANZAI 14
Shrimp, Salmon, Eel, Japanese Ooba Mint, Avocado, Sesame Seed, Deep-Fried with Eel Sauce
LUCKY LOBSTER 15
Lobster Tempura, Cucumber, Avocado, Tobiko, and Eel Sauce
NINJA 15
Spicy Yellowtail, Avocado, Tempura Crunch, with White Tuna, Black Tobiko, and Chef's Special Sauce
MT. FUJI VOLCANO 16
Shrimp, Eel, Cucumber, topped with Avocado, Spicy Kanikama, Tempura Crunch and Eel Sauce
WASABI TUNA 16
White Tuna topped with Tuna, Tempura Crunch, Scallion, Lemon Zest and Creamy Wasabi Mayo Sauce
SUMO 14
Tuna, Salmon, Mango, Cucumber and Cream Cheese, topped with Yellowtail, Salmon, Ume Sauce and Jalapeño
FUJI DRAGON 16
Deep Fried Soft Shell Crab, Spicy Tuna, Avocado, wrapped in Special Kombu Seaweed
SUMMERTIME 10
Shrimp, Oba Mint, Onion, Mango, Cucumber, Avocado, Asparagus, wrapped in Rice Paper, served with Sweet Chili Sauce
SPICY VEGETABLE 9
Avocado, Shiitake Mushrooms, Japanese Kanpyo Gourd, Cucumber, Japanese Ooba Mint, with Spicy Sauce and Sesame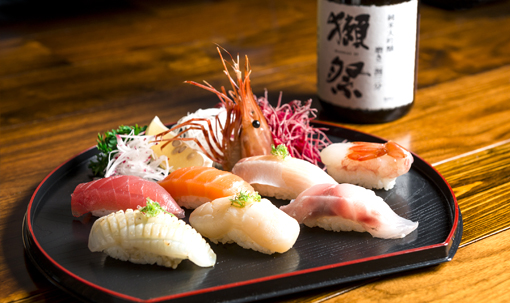 BANZAI CEREMONY
A "Banzai Ceremony" at Mt. Fuji Steakhouse restaurants is a traditional and extra fun way to celebrate that special person and/or occasion. For any special events (i.e. birthday, anniversary, promotion, etc) and dedicated to the celebrating party/guest for an additional charge. Please contact us for more details.
BANZAI DESSERT  / 5
Includes Fresh Fruit, Candle and Song
Please kindly note a $2/per person cake cutting service fee.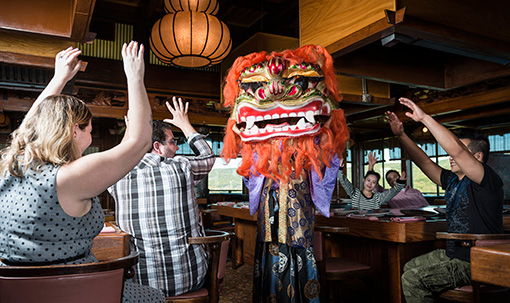 DESSERTS
MOCHI ICE CREAM 6
Japanese Mochi (sticky rice dough) with Ice Cream Filling, 3 pieces, Vanilla, Chocolate and Strawberry
ICE CREAM 3
Vanilla or Chocolate
GREEN TEA ICE CREAM 3.5
TEMPURA ICE CREAM 5
Vanilla Ice Cream Served Tempura-Style with Whipped Cream and Cherry
BEVERAGES
WINES BY THE GLASS
WHITE 9
PINOT GRIGIO, ZONIN, FRIULI, Italy
Lightly dry yet extremely fresh. Its pleasantly balanced and elegant structure makes this an unusually refined and aristocratic wine.
MOSCATO, CASTELLO DEL POGGIO, Italy
Slightly-sweet, refreshing personality with an unmistakable flavor
of peach, musk, honey, and white flowers.
SAUVIGNON BLANC, MATUA, MARLBOUROUGH, New Zealand
The palate is well proportioned with refreshing tropical flavors that linger on the seductive finish.
CHARDONNAY, HARKEN, California
The luscious palate suggests crème brulée and buttered toast, and finishes with fresh acidity.
ROSE 9
ROSÉ, DAY OWL, California
Floral red fruit and vibrant orange zest vibes, lively acidity and a dry, elegant finish.
RED 9
PINOT NOIR, LINE 39, CENTRAL COAST, California
Delicate aromas of strawberries, rich raspberry and cherry flavors, supple tannins.
MERLOT, STERLING VINEYARDS, California
The viscous mouthfeel of the wine is plush and the ripe tannins are refined and polished.
CABERNET SAUVIGNON, CHATEAU ST JEAN, California
The wine is well structured with a juicy mouthfeel and a full, lingering finish.
SPARKLING 8
PROSECCO, MARTINI, D.O.C., Italy 187ml
This lightly sparkling delight is a refreshing and crisp white wine with hints of apple, peach, and vanilla.
SAKE LIST
PREMIUM
WAKATAKE ONIKOROSHI JUNMAI DAIGINJO  300ml Bottle | 43
Deep taste and slight sweetness stemming from elegant, fruity aromas and superb acidity.
KANSANSUI JUNMAI DAIGINJO  300ml Bottle | 38
It is pasteurized via the Shizukshibori method, using only gravity and no applied pressure to procure sake from the mash. Mellow, supple mouth-feel, complex, delicately aromatic.
DASSAI 39 JUNMAI DAIGINJO 300ml Bottle / 35
With a hint of tropical fruit like young pineapple, mango, apples and pears, this sake has a sharp freshness and brilliance. An almighty sake that can bring out the best in any food.

NARUTOTAI GINJO NAMA GENSHU  720ml Bottle | 70
This sake is draft sake/unpasteurized sake. Full-bodied medium dry draft sake with complex flavor of rice and fruits.
NARAMAN BIN HIIRE MUROKA JUNMAI  300ml Bottle | 24
This sake has been filtrated and pasteurized only once to keep its original taste and aroma like mellow melon with little acidity.
SWEETER
DASSAI NIGORI 300ml Bottle / 22
Smaller particle create a clean, off dry finish. Long lasting textures that cleanse the palate. We could enjoy crisp taste for long time
MIO SPARKLING SAKE  300ml Bottle | 16
MIO entices you with its unique, sweet aroma and refreshing, fruity flavor. Just pour into a glass and enjoy a sparkling new sake experience.
WINES BY THE BOTTLE
WHITE WINES
PINOT GRIGIO, SANTA MARGHERITA, ALTO ADIGE D.O.C., Italy | 68
A dry white wine has a straw yellow color. Its clean, intense aroma and bone-dry taste with an appealing flavor of Golden Delicious apples.
SAUVIGNON BLANC, CLOUDY BAY, MARLBOROUGH, New Zealand | 60
The palate is concentrated and mouthwatering, with juicy stone fruit and subtle tropical characters underpinned by a fine minerality and meyer lemon acidity.
RIESLING, DR. KONSTANTIN FRANK, FINGER LAKES, New York | 35
Clean and delicate on the nose with citrus, nectarine and pineapple with a touch of pear mineral notes. Cool and balanced with a brighter acidity and a slightly less sweeter style.
CHARDONNAY, NEWTON SKYSIDE, NORTH COAST, California | 48
The wine enters full with white nectarine and citrus fruit notes that continue in the palate. The citrus and stone fruit attributes weave together with subtle oak notes coupled with good acid to lengthen the finish.
BLUSH WINES
ROSÉ, FLEUR, COTES DE PROVENCE, France | 43
Aromas of tangerine, strawberry and white peach are energized by a hint of white pepper. The finish is fresh with red currant and clementine.
PLUM WINE, KOYUKI, Japan | 23
Sweet and mellow plum infused white wine.
RED WINES
PINOT NOIR, ETUDE, CARNEROS, California | 80
Beautifully structured and lush, loaded with complex layers of cherries, spice and hints of earth, with a silky finish.
RED BLEND, 7 MOONS, California | 36
Flavors of strawberry preserves, cherry cola, and milk chocolate follow through to a smooth, fruit-forward, lingering finish.
MALBEC, TERRAZAS DE LOS ANDES RESERVA, MENDOZA, Argentina | 40
Intense floral and fruity notes. Presence of violets, ripe black cherry and plum aromas. It's juicy mouthfeel delivers finesse, delicate tannins and an elegant finish of black fruits.
CABERNET SAUVIGNON, JOSH, California | 38
Bouquet of dark fruits, cinnamon, clove and subtle oak aromas.
CABERNET SAUVIGNON, BERINGER KNIGHTS VALLEY, California | 58
Bold dark berries, as well as currants and hot stones. Full-bodied, layered and rich.
CABERNET SAUVIGNON, PROVENANCE, RUTHERFORD, NAPA, California | 90
Richly textured, opulent dark berry flavors open with chocolate, espresso and spicy black pepper accents, black tea and green olive on the mid-palate.
SPARKLING WINES
VEUVE CLICQUOT BRUT YELLOW LABEL NV CHAMPAGNE, France
Half Bottle | 50     Bottle | 100
On the nose the wine is initially reminiscent of white fruits and raisins, then of vanilla and later of brioche. Note the fine balance between the fruity aromas coming from the grape varieties and the toasty aromas following the ageing in the bottle.
AFTER DINNER DRINKS
GIN
BOMBAY SAPPHIRE | 9
BOMBAY SAPPHIRE EAST | 9
HENDRICKS | 12
NOLET'S | 12
TANQUERAY | 9
TANQUERAY TEN | 12
CORDIALS
APEROL | 10
BAILEYS | 10
CAMPARI | 10
CHAMBORD | 10
COINTREAU | 10
DISARONNO AMARETTO | 10
DRAMBUIE | 10
FRANGELICO | 10
GODIVA DARK CHOCOLATE | 10
GODIVA WHITE CHOCOLATE | 10
GRAND MARNIER | 10
KAHLUA | 10
PAVAN | 10
ROMANA SAMBUCA BLACK | 10
ROMANA SAMBUCA WHITE | 10
ST GERMAIN ELDERFLOWER | 10
SOUTHERN COMFORT | 10
SOUTHERN COMFORT LIME | 10
TIA MARIA | 10
TEQUILA
AGAVE LOCO | 10
DELEON PLATINUM | 10
DON JULIO BLANCO | 10
DON JULIO 1942 | 35
JOSE CUERVO GOLD | 9
PATRÓN SILVER | 10
PATRÓ1N EXTRA AÑEJO | 35
VOLCÁN DE MI TIERRA BLANCO | 12
JAPANESE WHISKY
HIBIKI HARMONY | 30
ICHIRO'S MALT AND GRAIN | 30
IWAI WINE CASK FINISH | 25
YAMAZAKI 12YR | 40
COGNAC
HENNESSY VS | 12
HENNESSY XO | 35
HENNESSY PARADIS | 125
REMY MARTIN VSOP | 15
BOURBON
BULLEIT | 12
JIM BEAM | 10
KNOB CREEK | 12
MAKER'S MARK | 12
WOODFORD RESERVE | 12
CANADIAN WHISKY
CANADIAN CLUB | 9
CROWN ROYAL | 12
SEAGRAMS VO | 9
SCOTCH
CHIVAS REGAL | 12
DEWARS | 9
JOHNNIE WALKER RED | 9
JOHNNIE WALKER BLACK | 12
JOHNNIE WALKER BLUE | 75
SINGLE MALT SCOTCH
GLENFIDDICH 12YR | 14
GLENLIVET 12YR | 12
MACALLAN 12YR | 14
JAPANESE DRAUGHT BEER
Asahi | 8
JAPANESE BOTTLED BEER
Kagua Rouge | 14
Kagua Blanc | 14
OZE Japanese I.P.A | 14
Echigo Stout Ale | 10
Sapporo | 7
DOMESTIC / IMPORTED BOTTLED BEER
Coors Light (USA) | 6
Corona Extra (Mexico) | 7
Heineken (Amsterdam) | 7
NON-ALCOHOLIC DRINKS
JAPANESE CREAM SODA | 7
Japanese Melon Syrup, 7Up & Vanilla Ice Cream
MINT LIME SPRITZER | 5
Fresh Mint, Simple Syrup, Lime Juice & Club Soda
MT FUJI FRUIT PUNCH | 5
Mango Nectar, Pineapple Juice, Cranberry Juice, Ginger Ale & Grenadine
VIRGIN PINA COLADA | 5
Crème of Coconut & Pineapple Juice *Also Available in Mango & Strawberry
GINGER LEMONADE | 5
Lemonade, Ginger Ale, Japanese Nagomi Ginger Syrup, Fresh Ginger & Simple Honey Syrup
JAPANESE ICED GREEN TEA | 5
MARTINIS
LYCHEE | 14
Grey Goose Vodka & Lychee Puree
MATCHA | 14
Grey Goose Vodka, Nagomi Green Tea Syrup & Milk
RED MOMO | 14
Ketel One Botanical Peach and Orange Blossom Vodka, Japanese Nagomi White Peach Syrup, Japanese Yukari Red Shiso Mint Juice
COCONUT COSMO | 12
Stoli Vodka, Amaretto, Crème de Cacao, Crème of Coconut, Heavy Cream
FUJI APPLE MARTINI | 14
Ciroc Apple Vodka, Japanese Nagomi Apple Syrup
ESPRESSO MARTINI | 17
Grey Goose Vodka, Godiva Dark Chocolate, Kahlua and Fresh Espresso
MT FUJI CLASSIC COCKTAILS
MAI TAI | 10
Bacardi Black Rum, Light Rum, Triple Sec, Crème de Noya, Orange & Lemon Juice
ZOMBIE | 10
Bacardi Black Rum, Light Rum, Apricot Brandy, Pineapple, Orange & Lemon Juice
MIDORI COLADA | 12
Midori Melon Liqueur, Light Rum, Cream of Coconut & Pineapple Juice *Regular Piña and Mango Flavors as well
SAMURAI | 10
Grey Goose & Koyuki Plum Wine 
SHOCHIKUBAI HOT SAKE | 7
Traditional Japanese Rice Wine, Served Warm
COCKTAILS
FUJI FIG | 14
Figenza Fig Vodka, St Germaine Elderflower Liqueur, Pomegranate Juice & Fresh Lime Juice
WHITE SANGRIA | 14
Castello de Poggio Moscato, Kurosawa Junmai Kimoto Sake & Splash Sparkling Wine
SAPPHIRE EAST DRAGON | 14
Bombay Sapphire East Botanical Gin, St Germain Elderflower Liqueur & Fresh Lemon Juice
MT FUJI OLD FASHION | 12
Mars Iwai Japanese Whisky, Aperol Liqueur, & Muddled Orange
ORANGE PEACH BLOSSOM | 12
Ketel One Botanical Peach and Orange Blossom Vodka, Japanese Nagomi White Peach Syrup and Iced Tea
SPICY FUJI MARGARITA | 14
Don Julio Blanco Tequila, Ancho Reyes Ancho Chile Liqueur, Fresh Grapefruit and Lime Juice & Agave Nectar.
JAPANESE MINT MOJITO | 14
Barcardi Superior Rum, Fresh Muddled Shiso and Mint, Fresh Lime Juice & Simple Syrup
PINEAPPLE YUZU MOJITO | 12
Bacardi Pineapple Rum, Yamayuzu Shibori Sake, Fresh Mint, Lime and Pineapple Juice, & Splash of 7-Up Also Available in Peach, Mango, and Watermelon
MINT NOLET | 12
Nolet's Gin & Yukari Red Shiso Mint Juice
YUZU MINT | 14
Yamayuzu Shibori Sake, Pavan de France Muscat Liqueur, St. Germain Elderflower Liqueur, Sparkling Wine, Fresh Lime and Mint
SUPER SUNDAY BRUNCH
Due to the Covid-19 pandemic, our international buffet style Super Sunday Bruch is currently not available. Please see our homepage, www.mtfujirestaurants.com for our Y's Garden outdoor seating, menu and dining hours. If you are interested in private events of 50 guests or less, please call our catering department at 845-357-5501. Thank you for your cooperation.
Please notice that our prices have been changed as of February 3rd, 2019. Thank you for understanding and we appreciate your business.
FRESH OMELETTES
Made to Order
FRESH BAKED GOODS
Fresh Baked Muffins, Croissants and Bagels
FRESH VEGETABLE CRUITE AND SEASONAL FRUIT DISPLAY
VEGETABLE TEMPURA
with Tempura Dipping Sauce
CARVING STATION
Prime Rib, Roast Suckling Pig, London Broil, Roast Turkey, Roast Beef, Steamship Roast or Virginia Ham
SUSHI PRESENTATION
Our Master Sushi Chef's Skillfully Prepare Assorted Sushi for You and Your Guests! Tempura Shrimp Roll, California Roll, Salmon, Roll, Vegetable Roll, and More… Accompanied by Soy, Ginger and Wasabi
COLD SEAFOOD BAR
Shrimp Cocktail and Smoked Salmon with Capers and Onions
CHEF'S DISPLAYS of COLD SALADS
Mozzarella & Tomato, Orzo Pasta with Feta Cheese and Diced Seasonal Vegetables, Mango, Papaya, Jicama and Cilantro Salad, Dijon Egg Salad, Carrot & Raisin Salad, Antipasto Salads, Seafood Salad, German Potato Salad & Mixed Field Garden Salad, featuring Homemade Ginger Dressing or Caesar Salad
SAVORY HOT CHAFFING DISHES
(Sample Menu – Dishes Vary Weekly)
Californian Frittata, Country Style Bacon & Sausage, Eggs Benedict, Texas Style French Toast, Raspberry Cheese Blintzes, Apple Turnovers, Eggplant Rollatini, Pasta (Penne Vodka, Pesto, or Primavera Tortellini Alfredo, Rigatoni Bolognese, Ravioli with Lobster Sauce), Chicken (Sesame, Basque, Florentine, Teriyaki Provencal, Renato with Artichokes and Sun Dried Tomatoes, Marsala) Roast Pork Loin (Mango Chutney, Southern BBQ) Beef (Bourguignon, Pizzola, Diane, Stir Fry, Perigourdine), Merlot Demi-Glace or Asian-Style Beef Short Ribs, Veal Blanquette, Atlantic Salmon (Teriyaki, Piccata, Seafood Cream Sauce) Seafood (Newborn, Cioppino, Beurre Blanc, Fra Diabolo, Scampi) Risotto, Wild, Spanish, Saffron or Black Bean Rice, Potatoes and Vegetables Medley
WONDERFUL & DECADENT DESSERTS
Italian and French Pastries, Assorted Cakes and Pies from the Palermo's Famous Bakery and Ice Cream
THE VIEWS AT MT. FUJI
International Buffet 35 per person
Children 3-10 years 15 per person
Sunday Brunch at The Views is our very popular weekly tradition that takes place in our catering facility, The Views at Mt. Fuji, at our Hillburn, NY location. With a stunning view of the Ramapo Valley, Mt. Fuji customers can enjoy the beautiful sight while feasting on the international buffet-style brunch featuring over 30 different food selections. Menu changes weekly
11:30 AM – 3:00 PM (last seating at 2:00 PM)