BANZAI CEREMONY
A "Banzai Ceremony" at Mt. Fuji Steakhouse restaurants
is a traditional and extra fun way to celebrate that special person and/or occasion. For any special events (i.e. birthday, anniversary, promotion, etc), a delicious Mt Fuji ice cream cake or fresh pineapple dessert will be provided and dedicated to the celebrating party/guest for an additional charge. Please contact us for more details.
MT FUJI ICE CREAM CAKE
Large 30
Small 12
FRESH PINEAPPLE DESSERT 5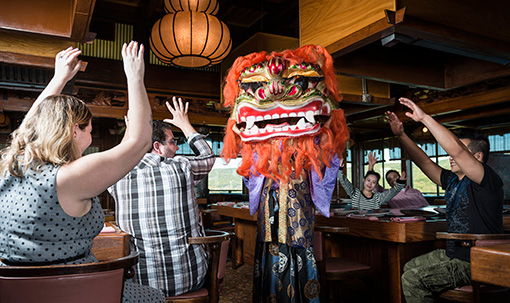 UPCOMING EVENT
Please keep an eye on our exciting upcoming events!
WEDDING
Please visit our website at www.theviewsatmtfuji.com. If you have any questions or would like to set up an appointment to view the property please contact us at 845-357-5501, or email our Director of Catering, Patrick Kelly at patrick@theviewsatmtfuji.com.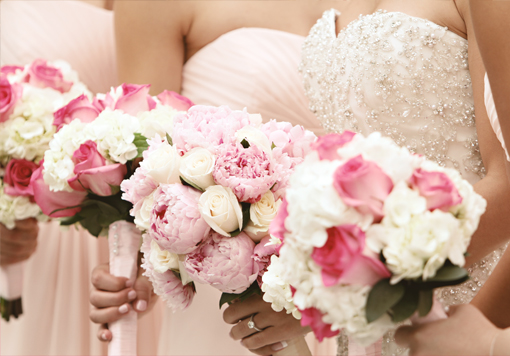 MURDER MYSTERY SHOWS
Mt. Fuji Steakhouse restaurant in Hillburn, NY, is proud to present a special comedy murder mystery dinner show by New York City's leading comedy mystery theatre group, The Killing Kompany. This interactive funny murder mystery show takes place at The Views at Mt Fuji where professional Broadway, TV and film actors are seated amongst you and where you are part of the show. The evening includes a complementary beverage, sit-down dinner buffet, music, dancing and Murder! Shows are scheduled on select dates throughout the year and are great for corporate and private parties as well. Reservations are required as seats are limited.

See website for upcoming show dates. ONLY $65.00 PER PERSON including tax and gratuity.

Limited Seating!
Make Your Reservations Now! Tickets are non-refundable & Payment is requested in advance
---
CRITICS REVIEW
"Tired of long lines at the movies? Can't afford those broadway theatre ticket prices? Do I have the answer for you. It's the Killing Kompany Murder Mystery Dinner Shows"   – NY Queens Chronicle
PRIVATE PARTIES
The Views at Mt Fuji is an ideal venue for special events. Whether you're celebrating a graduation, an anniversary or a milestone birthday, we work with you closely to create the most memorable party for you and your guests. Please contact us to book an event.
SUPER SUNDAY BRUNCH
FRESH OMELETTES
Made to Order
FRESH BAKED GOODS
Fresh Baked Muffins, Croissants and Bagels
FRESH VEGETABLE CRUITE AND SEASONAL FRUIT DISPLAY
VEGETABLE TEMPURA
with Tempura Dipping Sauce
CARVING STATION
Prime Rib, Roast Suckling Pig, London Broil, Roast Turkey, Roast Beef, Steamship Roast or Virginia Ham
SUSHI PRESENTATION
Our Master Sushi Chef's Skillfully Prepare Assorted Sushi for You and Your Guests! Tempura Shrimp Roll, California Roll, Salmon, Roll, Vegetable Roll, and More… Accompanied by Soy, Ginger and Wasabi
COLD SEAFOOD BAR
Shrimp Cocktail and Smoked Salmon with Capers and Onions
CHEF'S DISPLAYS of COLD SALADS
Mozzarella & Tomato, Orzo Pasta with Feta Cheese and Diced Seasonal Vegetables, Mango, Papaya, Jicama and Cilantro Salad, Dijon Egg Salad, Carrot & Raisin Salad, Antipasto Salads, Seafood Salad, German Potato Salad & Mixed Field Garden Salad, featuring Homemade Ginger Dressing or Caesar Salad
SAVORY HOT CHAFFING DISHES
(Sample Menu – Dishes Vary Weekly)
Californian Frittata, Country Style Bacon & Sausage, Eggs Benedict, Texas Style French Toast, Raspberry Cheese Blintzes, Apple Turnovers, Eggplant Rollatini, Pasta (Penne Vodka, Pesto, or Primavera Tortellini Alfredo, Rigatoni Bolognese, Ravioli with Lobster Sauce), Chicken (Sesame, Basque, Florentine, Teriyaki Provencal, Renato with Artichokes and Sun Dried Tomatoes, Marsala) Roast Pork Loin (Mango Chutney, Southern BBQ) Beef (Bourguignon, Pizzola, Diane, Stir Fry, Perigourdine), Merlot Demi-Glace or Asian-Style Beef Short Ribs, Veal Blanquette, Atlantic Salmon (Teriyaki, Piccata, Seafood Cream Sauce) Seafood (Newborn, Cioppino, Beurre Blanc, Fra Diabolo, Scampi) Risotto, Wild, Spanish, Saffron or Black Bean Rice, Potatoes and Vegetables Medley
WONDERFUL & DECADENT DESSERTS
Italian and French Pastries, Assorted Cakes and Pies from the Palermo's Famous Bakery and Ice Cream
THE VIEWS AT MT. FUJI
International Buffet 29 per person
Children 3-10 years 14 per person
Sunday Brunch at The Views is our very popular weekly tradition that takes place in our catering facility, The Views at Mt. Fuji, at our Hillburn, NY location. With a stunning view of the Ramapo Valley, Mt. Fuji customers can enjoy the beautiful sight while feasting on the international buffet-style brunch featuring over 30 different food selections. Menu changes weekly
11:30 AM – 3:00 PM (last seating at 2:00 PM)